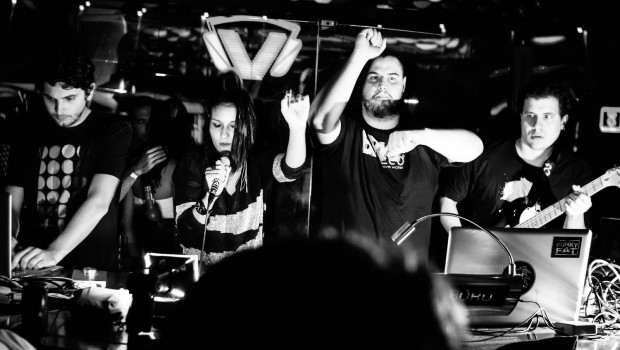 By Stef Siepel
September 6, 2013
The Weekly Froth! A weekly take on six tracks, most of which have recently popped up somewhere in the blogosphere. Bit of a mixed bag with a slight leaning towards house, disco, and remixes, but generally just anything that for some reason tickled the writer's fancy.
Track of the week: 'Jealousy' by Funky Fat (Severino remix)
You got to love that bass at the start, immediately gets the track rolling that. After that the beat comes in, as well as some other percussion elements, and they sprinkle some light sounds on top to give it this feel good vibe (which kind of seems weird with a track called 'Jealousy'). Those light sounds are quickly traded in for some attitude with the vocals though, saying that she's not your possession, so like, don't treat her that way, you know? The core sound in the track is the bass, which keeps on going and going and which makes the track just so dancey and catchy. The contrast between some of the sounds and the vocals (and their attitude) is really nice, and both, as said, are supported by that bass to add that continuity to it. I always like it when you can just do some dancing and then, Wham, the people who want to can show some theatrics with the vocals and their lyrics. Just before the fourth minute mark everything for a moment comes together, this before a small break where the bass is given a rest for a minute. Naturally, it comes back soon enough to ride this one out to its ending. Hot bass, a track you can dance to, but which also packs a bit of punch with the vocals: a lovely track this one.
'I'll Be Watching You' by Lost Scripts
Lost Scripts are John Talabot and Pional, a collaboration that really worked on Talabot's magnificent album Fin. For the Young Turks label they cooked up this track, that in the very first minutes already brings you everything you could want in a collab from these guys. There's the beat (there, but part of the team), woodwork, piano, detached and somewhat darkish vocals, cymbals; the whole shebang comes out. And what you get is a track that actually would work on a dancefloor in a slightly deeper, more minimal set, though it will work equally well on a headset walking through the citylights at night. The atmosphere is just fantastic, the timing when instruments come in and out is splendid, not to mention how it all just gels together. These guys just have an ear for it. At 2:50 there's a bit of a strip down with only some lighter sounds remaining, after which they don't immediately return to the beat but actually introduce a new, kind of horn-like sound. Cymbals and vocals are added first, exclaiming that they'll "be watching you". Then a bass comes in, and after the bass there is a return to the beat, but not necessarily to the original sounds as a whole, keeping the horns and some other new elements to kick this one into a new part of the track. Just class, this is.
'Alternate State' by Hot Natured feat. Roisin Murphy
The names involved in the collective of Hot Natured is pretty impressive, with Jamie Jones, Ali Love, Lee Foss and Luca C. pitching in. Add to that, for this track, the impeccable Roisin Murphy on vocals, and there sure is no way you can lose this one, can you? Before as much as a beat or bass comes in, the vocals are already giving it a go on some restrained sounds. Fifteen seconds after that the rhythm sounds come in, but it is clear from the get go that the golden voice of Murphy will be heralded, and not waylaid. At 1:50 there's a nice kick in of the beat after Murphy's line "I used to be afraid to fly", but the lads all keep it relatively restrained, so don't expect a complete banger, even though you can do a little (slower paced) dance to it. But the sounds fit well with the vocals, and every time you get Murphy to do something, certainly you adapt. I like the monkish kind of chants after the third minute mark, didn't expect that, and it is a nice way to add some atmosphere and vibe to the song as it nears the end. It does end on a relatively quick note, I had the feeling they could've eased into that a bit more, but better ending it too soon than too late I think. The album, at the time of writing, has been streaming on Pitchfork Advance for a few weeks, so definitely check that one out if it's still there.
'Lonely Dancer' by Van McCoy (Sleazy McQueen edit)
How about some old school disco eh? Sleazy McQueen takes on Van McCoy's 'Lonely Dancer' from 1979. Van McCoy died of a heart attack in the year this released, with "this" being a romantic reach out for the lonely dancer to "dance with me". McQueen puts a nice little beat under it to make it more for the nu dancefloor, though the beat (as you need to do with a good disco edit) fits the style and isn't this almighty present thing that sticks out like a sore thumb. The real greatness of the edit lies in the echo on the background vocals and the fabulous horns, of which he puts plenty in there. Around 1:35 you've got some nifty piano that nicely combines with the bass that weaves its way through, after which those female vocals come back as they overlap themselves to create layer upon layer. About three minutes in you actually hear Van McCoy himself for the first time, even though Sleazy McQueen only uses him saying the same line as the girls are (who get an added doop-doop-doop line, which is just so lovely disco). Clever use of the chorus here, and one with a nicely fitting beat. But especially the horns and the echo on the voices make it so that Sleazy McQueen has churned out a lovely disco edit yet again, one with disco vibes all over.
'So Into You' by Chris Malinchak
I really like the vibes of the previous Malinchak tracks (original or heavily indebted to), and this one is no different. I really like this kind of beat, not too fast, two different beat sounds comprising the actual complete one; it really lays a nice groundwork for the vocals to eventually come on. Vocals which, may I add, fit it quite well. Love what the vocals do at about 1:50, with the repetition of "it's gonna be all right" a little bit further down in the background. The break is set in just before the third minute mark, taking the beat away and replacing it with drums to accompany the vocals, naturally putting the original sounds back in at 3:30. After the fourth minute mark he does the Its gonna be all right bit with the vocals again, after which he slowly slides this one into its ending. It just has this amazing groove going on this track does, one I'll happily shuffle to on the dancefloor or just listen to on my headset wherever.
'Stronger' by Nicholas feat. Jessy Allen (alternative vocal mix)
I just love Nicholas, its really the kind of house I like to play and listen and dance to. Great house sounds, nice and warm, and usually there's a bit of something going on vocally as well. This time it's Jessy Allen on vocal duties, singing that she needs you stronger as the beat keeps this one going forward. Not all sounds are rhythm sounds though, as there runs this lovely sound right on through that just adds warmth and atmosphere to this whole thing. As he sometimes does, here too he uses some spoken word, and I believe here too it is Martin Luther King, which is fitting as a few weeks ago it was the fiftieth birthday of his most well-known speech. Naturally you don't have to listen to this for a King speech, though it does underline the interconnectedness between the origins of house music and its tied in message. You do have to listen to this for the great house sounds though, which would make me so happy on the dancefloor. Plenty of atmosphere, nice vocal work, but it is the house sounds that just work up and down and twice around. Can't go wrong with this.