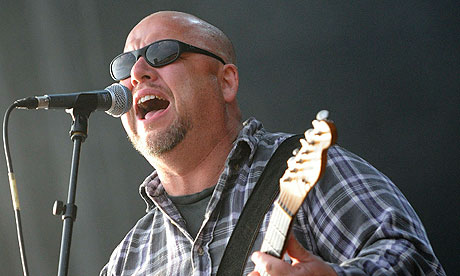 By Zach Roddis
July 11, 2013
Following the recent release of 'Bagboy', their first track in nearly ten years, and the announcement of a European tour including UK dates that sold out within minutes, the Pixies seem to be on fire at the moment. This all comes two weeks after it was revealed that bassist Kim Deal has left the band for good.
Forming in 1983, the Pixies went on to influence Nirvana with their contrapuntal volume, often with Frank Black screaming each verse of a song, leaving the chorus to sound melodic in comparison. This couldn't be more apparent than on 'Gouge Away', taken from their second album Doolittle – more on that later. The Come On Pilgrim EP, which was comprised of tracks from their self titled demo (often referred to as The Purple Tape), got the attention of 4AD. However, it wasn't until the release of Surfer Rosa that they got any kind of attention from the mainstream. Whilst touring this album, the band played to a sold out crowd at London's Meanfiddler. This moment is perhaps as relevant as 'Spike Island' or 'Oasis at Knebworth' in contemporary indie rock. Amongst the crowd, Thom Yorke of Radiohead.
By the time we get to Doolittle in 1989, the Pixies were getting more commercial success, their sound perhaps being best represented on this album. As the intro of 'Debaser' pierces through, a song which references Dali's Un Chien Andalou, it becomes anthemic. Similarly the rest of the album celebrates the dark and surreal in an original way. The writing on the lesser known tracks like 'Dead' and 'There Goes My Gun', is sublime. Having toured the whole album extensively on its 20th anniversary a few years ago, it is less likely that they will take a lot from it in November.
Addressing the new set, Frank said that they would play some later Pixies material including the 'The Sad Punk' and 'Havalina'. With the departure of Deal it's safe to cross out the likes of 'Into The White' and 'Gigantic' from the potential setlist. Kim Shattuck of LA band The Muffs will be the replacement bassist. As a result the sound promises to be a lot more punky. They may pick up where they left off in terms of recording, with a new direction like Bossanova, rather than that of the lesser album Trompe Le Monde. The days of the hit single 'Here Comes Your Man', and the 2004 flash-in-the-pan 'Bam Thwok', are over. The band remain relevant and inspiring to many. Long live the Pixies.