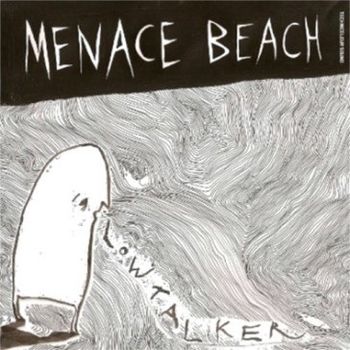 By Georga Felcey
January 15, 2014
In a time where every other band you hear about is an entanglement of distorted guitar fuzz, (yay) Menace Beach stand out amongst the plethora of '90s revival bands that their shoegaze/grunge elements are begging to be compared to – not only for their tag as a Leeds 'super-group' (featuring members of Sky Larkin, Hookworms and Pulled Apart By Horses), but for a uniquely simple and still greatly textured feel. A prime balance of tunefulness and muddy distortion prevents the whole thing becoming too overpopulated by noise and knots each track together producing the overall murky vibes.
Lowtalker opens with 'Fortune Teller' and an opening hook that sounds as if it could narrate a carousel ride from your nightmares. It's three and a half minutes in murky dreamland, that melts straight into 'Honolulu'; the two tracks piecing a mighty opening to the record.
Those boy-girl vocals are as sweet as candy floss – it's easy to be seduced by the handsome melodies that glisten within Lowtalker, giving this EP an increased presence compared to previous releases. It holds its weight and shows a progression into a much more developed and curated sound. 'Nervous' provides a lift in pace and strikes the quickest to stick out with a fruity bass line that summons a much bouncier response, offering a due spring amongst the tracks, and like the rest, once it's in your head it's stuck there.
Anticipating what else will come next from Menace Beach, here's hoping they'll be around for a while and have some more magic up their sleeves.
Lowtalker is available from amazon (here
) and iTunes (here).