Cat Schaupp 
September 5, 2013
Tapes.
Ah, yes. Crouching beside the stereo, finger hovering over the 'record' button, waiting to record your favourite songs from the Top 40 off the radio. Sticking a pencil into one of the spools and winding in metres of glistening tape pulled loose by a hungry, malfunctioning tape deck. The pleasure of flipping open a customised box to eagerly read the track listing scrawled inside. You remember them too, don't you? And I can't be the only one to look back on tapes with the glow of an enormous doze of nostalgia. The tape, out of all the musical media I've dabbled in — including vinyl, CDs and mini disc — holds a quite special place in my heart.
The affection felt for tapes by many is proved by this year's inaugural Cassette Store Day, taking place this Saturday and set to rock the globe. Not only are record stores falling over themselves to profess their love for the tape, but all manner of bands have been quick to get involved. At The Drive-In, The Flaming Lips, Gold Panda and Animal Collective are just a few of the many who will be releasing special tape editions of albums and EPs come the weekend. It's time to think back to the glory days of TDKs and BASFs in cracked boxes and tapes from friends slipped into jacket pockets; time to revisit those smashing compilations made by  lost loves, and time to dig that Sony Walkman out from the back of the wardrobe.
But that's quite enough waxing lyrical from me. Now, it's up to a few of our writers to tell us what made the tape so great, and what releases they want to get their hands on come Cassette Store Day.
Muso's Contributor Paul Faithfull, on what made the tape so special: 

"When using iTunes and a CD, it's quite possible to knock up a compilation CD in around 5 minutes. With a C90 cassette tape, it took at least an hour and a half, and that's if you were quick with your changes. Actually listening to your compilation as you recorded it allowed you to sequence a fantastic mix, rather than just chucking a load of tracks into a playlist and clicking "burn."  Whilst I don't miss their sound quality, or the fact that they snapped, stretched or tangled, I enjoyed being forced to take my time recording my compilations."
Muso's Writer Carrie Mok, on her Cassette Store Day picks:
"The second studio album from singer-songwriter Katie Crutchfield aka Waxahatchee is the must-listen album of the year. The special cassette release of Cerulean Salt will prove to be a special little secret for Waxahatchee fans with its heart-felt, honest lyrics, purring guitars and captivating vocals. Deerhunter's Monomania has the promise of luscious distorted guitars against the backdrop of the crooning, longing desire in 'The Missing'. Deerhunter's sixth album will one day prove to be one of the great rock 'n' roll albums of our era with songs like 'Leather Jacket II' and 'Dream Captain' (which references 'Bohemain Rhapsody' no less). Finally, Volcano Choir have come a long way for Bon Iver frontman Justin Vernon. Originally a collaboration between Vernon and Collections of Colonies of Bees, Volcano Choir has replaced the fresh oddity of first album Unmaps with the smooth croaking lows of Repave; a lost Bon Iver album in disguise."
And finally, our very own News Editor, Danielle Gibson, on her fond memories of mixtape making, and which of this year's releases are on her list for Saturday:
"My first cassette tape was something I can't admit to publicly, as it will ruin any reputation I have as my five year old self didn't know any better. But what else would I buy in December 1993 when I had hard earned pocket money to spend in Virgin Megastores (ooh the days)..? Cassette tapes were brilliant. I was able to take my music anywhere on my cassette player (that you could play Tetris on might I add). I could also record my own mixtapes via the radio, as long as I was quick enough to miss the presenters talking. It was the first portable music system, so who could complain about always having to change the batteries or about chewed up tapes? It was a great era for music and I'm totally excited that I can go out and buy some great cassette tapes this weekend. Now I just need to dig out the cassette player from the back of somewhere so that I can get my hands on Haim's Forever EP, Monomania by Deerhunter and Tripper by Efterklang."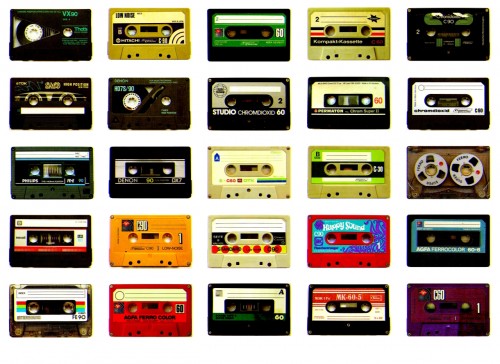 If Cassette Store Day is just the thing to tickle your fancy, you can find out more about participating record stores near you by checking out Cassette Store Day's official website, and if you're down London way, then get yourself along to Rough Trade East on Brick Lane. Among the high-jinks on the day, you'll be treated to an album playback from Omar Souleyman, a DJ set from Jen Long, and live sets from Bright Light Bright Light and The Proper Ornaments.