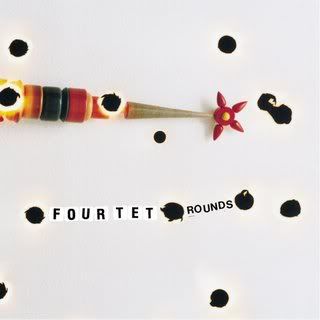 By Emily Liddle
May 09, 2013
Kieran Hebden celebrates the tenth anniversary of arguably his most influential album, Rounds, by reissuing it on May 13. The master of musical computer science and experimental producer's work as Four Tet paved the way for many current electronic artists – his influence is clearly there in work by acts such as Caribou and Bonobo.
His breakthrough effort is home to bewitching melodies and intricate loops, breaks and pauses of rhythmic samples. It is a classic album, which manages to possess both ambience and groove; you are guaranteed to become fully submersed as you listen. At the time of release it stunned critics and fans alike, it captured the grace of Radiohead but without complicating or subverting that stepping off point. It provides a warm energy from the beginning with its effortless confidence. 'Hands' opens the album with distorted, intrusive drum samples but develops into a breathtakingly melancholy, melodic beat defining Hebden's folk-electronica style.
Two singles were released off the album, the first, 'She Moves She', is a manipulation and distortion of a breadth of sounds; the intriguing merging of psychedelic percussion, disc-skipping and a soft guitar melody still sounds brilliant. 'My Angel Rocks Back And Forth' is a beautiful harp led track; it is a unique part of the album full of emotion, quite possibly one of the best pieces of music he has created. It is dreamy and sentimental, with a focus on delicate guitar and percussion against layer upon layer of evocative rhythms. We only hear this heart-wrenching style form once again on Rounds; 'And They All Look Broken Hearted' holds the same downhearted sentiment.
At the time of release Hebden was opening a distinct chapter in his already prolific career. He used tiny parts of what had made his previous two albums successful but he also distanced himself entirely through the birth of Rounds. He moved into a more intelligent form of producing, creating a distinctive style of computer-based composing. The clever interweaving of organic sounds produces a totally unique feel in his music. The intricate nature of electronica can be overwhelming to new listeners but from the outset, Rounds welcomes, drawing you in.
And if you didn't think he could, boy has he progressed in the intervening ten years! Collaborating with a succession of acts including Burial and Thom Yorke his more recent tracks have further layers to that already intriguing dance music style but each track he produces is still centred on his dynamic and intellectual production techniques.
The re-issued album is a wonderful slice of memorabilia for fans. It has been re-packaged by the Domino label and will be available in heavyweight double LP, CD and digital formats each of which will also contain a Live in Copenhagen bonus disc, a show recorded by Hebden in the Rounds era which effectively captures the adoration from and sheer excitement of his fans for the experience of enjoying live some of the greatest tracks he's ever made. It is a spectacular and special reflection of his breakthrough success.
Rounds is reissued on May 13 and will be available from amazon
and via iTunes.