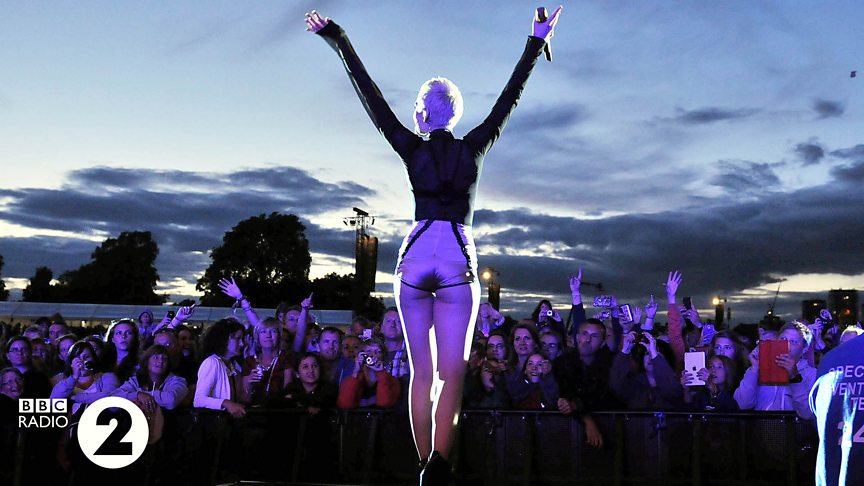 By Stuart Anderson
September 17, 2013
Billed as 'A festival in a day', BBC Radio 2 Live in Hyde Park returned for its sixth incarnation – and this year it was tweaked into a two-tier assembly: established acts on the main stage, and up-and-coming artists on the BBC Introducing boards.
More family orientated and aiming to an older demographic than the more mainstream festivals, the line-up of the main stage was an assortment of reputable Radio 2 stalwarts with a solid history of chart success: Simple Minds, Texas, James Blunt and headliner Smokey Robinson to name but a few. However, this year's inclusion of rising talent gave the event a little more of an edgy bite.
It was typical festival weather: glorious early sunshine; a sudden but mercifully brief monsoon; an unexpected cold snap (which necessitated a quick march to the nearest tailor to procure a costume-strengthening sweater (okay, a quick foray into Primark to buy a hoodie), followed by balmy evening breezes. The site and, indeed the patrons were inestimably neat and tidy, by festival standards, yet the former was not without its problems (more on that a little later).
Opening the event on the main stage was Scottish folk newbies Treacherous Orchestra, an act hotly championed by BBC Radio 2′s newbie folk DJ Mark Radcliffe. At first, the sight of a set of bagpipes being brought onto the stage made the heart sink and the stomach gargle, but although they played only a short set, they immediately engaged the swelling throng and their brand of almost punk-style aggressive folk (with polyrhythms galore) proved a perfect entree. Simple Minds were up next and played their four biggest tracks: 'Waterfront', 'Alive & Kicking', 'Sanctify' and the perennial '80s soundtrack foot-stomper (or should that be fist-pumper) '(Don't You) Forget About Me'. The rather passive but professional band was compensated by Jim Kerr's energetic stage antics, and he took full advantage of the small runway that had been constructed (apparently he'd never played on a stage that had one before) and delighted in skipping around the front row and the wings with indefatigable energy.
After the Scottish legends had departed, it was time to head over to the BBC Introducing stage to catch George Barnett (a similarly athletic stage presence) and his fresh, confessional brand of indie-pop was exciting as well as emotionally incisive. The painted keys of his KORG took a frequent battering and his band was tight and slick, if a little stoic. 'Catty' and 'Light a Fire' were both standout tracks from the set; and he was watched from the wings by one Jamie Cullum, who'd nipped over after his crowd-pleasing set on the main boards.
Next up on BBC Introducing was Screaming Maldini, a charming six-piece outfit from Sheffield that demonstrated a dextrous stagecraft and played an infectious brand of indie-pop-rock (though that barely covers the genres embraced) with skill, charm and genuine warmth. Guitarist Nick Cox (a dead ringer for a thin Simon Bird) invigorated the crowd with some call-and-response and the rather gorgeous lead singer Gina Walters shimmied and sashayed with a wistful and undulating vocal style, not unlike that of Kate Bush. 'Life in Glorious Stereo' and 'The Albatross' were the highlights of the set: both imbibed with chutzpah, multi-layered harmonies and even a hint of cheekiness.
Texas played the main stage next and although Sharleen Spiteri might have gently offended some of the audience with a subtly-dropped F-bomb, the band were lively and engaging, illuminating 'Say What You Want' with a playful sing-a-long, whilst also playing other hits including 'Halo' and 'Black Eyed Boy'.
After a quick break for some much-needed meat-based sustenance, there was just time to see the Manic Street Preachers play an impassioned 'A Design for Life' before watching Georgia Ruth beguile the BBC Introducing audience with her beautiful harp playing and delicate vocals. Although at first a slightly reticent performer, Ruth soon settled and 'Week of Pines' and 'Winter' were charming highlights. Sadly, the aural overspill from the main stage rather drowned out her closing numbers, but she didn't let the distraction affect the show. Lloyd Yates was similarly affected by this problem. The scratchy-voiced and swampy (in a Tony Joe White kinda way) singer was cruelly interrupted by James Blunt screaming "Hello London" whilst he introduced a particularly poignant song written about divorce and bringing up children whilst apart, ('Burn My Baby') and although he similarly shrugged it off, it was certainly an irritation to the crowd. Happily, 'Down by the River' and 'Bring Back the River' were bombastic enough to withstand whatever Blunt could throw at them and elicited an enthusiastic and appreciative response from the assemble throng and it's a folk-rock act well worth checking out as soon as possible. There was a true feeling of camaraderie between the players on stage and Yates's explanations of the feelings and stories behind the songs were terrific to hear.
As the sky darkened, it was back to the main stage to catch Jessie J. And one thing's for damn sure: whatever you think of her songs, media profile or forays into reality television – Jessie J is an incredible live performer. Confident and sassy, yet warm and engaging, Jessie cajoled, excited and flirted outrageously with the crowd – strutting her stuff across the width of the stage and down that aforementioned runway. During the intro to 'It's My Party', after walking backwards onto the main stage, she halted the intro because she'd forgotten to sing. At no point was she embarrassed and instead, she calmly told the audience what had happened and got straight back in with the proficiency of a consummate professional. Similarly, when video footage filled in the rap segments of 'Price Tag', she admitted that in such situations she didn't know what to do with herself onstage and so encouraged the crowd (and her band) to execute their best gangsta-rap impressions, which went down a storm. J's voice was in fine fettle too, as she passionately belted out her hits, finishing with 'Domino' which was a real highlight. Less successful was a cover of Aerosmith's execrable 'I Don't Want to Miss a Thing' but on the strength of the rest of her set, all was swiftly forgiven.
And so from the main stage back to BBC Introducing where the lovely Emma Stevens was headlining. Championed by Terry Wogan and Chris Evans, Stevens's brand of seemingly bright and breezy indie-country-folk is lyrically astute, musically mesmeric and utterly charming. From the first note, this was a performance of a singer-songwriter destined for mainstream success and critical acclaim.The three EPs that Stevens has released feature multi-layered harmonised vocal tracks and there was a brief thought that this might not translate well a capella (so to speak) but at no point was any intensity lost and Stevens's megawatt smile would have more than compensated if there was. Even the usually stoic sound engineer couldn't resist nodding along to a couple of tracks, especially the beautiful 'How to Write a Love Song' which was introduced as a riposte to a an old boyfriend that ended their relationship on her seventeenth birthday. A real joy also was her signature track 'A Place Called You', which needed just a couple more people in the crowd whistling along. A more personal track, 'Sunflower' was also passionately performed and Stevens's preamble was particularly affecting. It's on her new EP and well worth seeking out. Stevens and her band sounded amazingly tight and exuded genuine sincerity towards the huddled crowd. She was by far the most professional act on the BBC Introducing bill – presenting her band by name, cheekily setting up a guitar solo and she was also the only performer to take a bow. After the set, she came out front to chat to the audience, which was a simple but telling gesture of how grounded yet grateful she surely is. She truly deserves all the success that comes her way.
And so to Smokey: oh Smokey! After a slight kerfuffle to get the band on stage, Robinson's entrance was a rather muted affair, wandering downstage from the wings, with the resplendence of his studded jeans and a shimmering purple jacket further deflated by the unusually low vocal levels. And although the technical issues were solved by the third song in his set, sadly Robinson struggled to fully recover. 'I Second That Emotion' and 'The Tears of a Clown' helped to get things more or less on track, as did a rousing medley of hits that were written for The Temptations, including the legendary 'My Girl'. However, just as the audience's energy levels seemed boosted, a rather downbeat version of 'The Tracks of My Tears' fell slightly flat. One problem was the threadbare ensemble of musicians in the band. Robinson's songs are designed to be played loud and by a large troupe. On the night, the horn section consisted only of one saxophonist, and whilst there were three additional vocalists to add some depth and harmony, the songs were inescapably thin and frothy, rather than deep, viscous and intense. Robinson tried to pull things back by coaxing the audience into a vocal sparring match, but by then interest seemed to be on the wane and by the closing songs, the audience had thinned significantly – most probably off to catch the last tube trains home.
Overall, the 'festival in a day' was hugely enjoyable; both as a chance for the Radio 2 demographic to catch their favourite artists doing a turn, and also as a showcase for new talent. Whilst Smokey Robinson might not have lived up to the hype, (possibly due to playing such a short set and with a limited band), Jessie J and Emma Stevens were the top picks from each stage, with honourable mentions going to Lloyd Yates and Screaming Maldini.