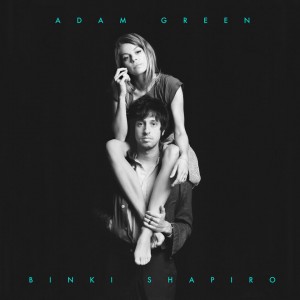 By Rob Aldam
January 24, 2013
Back in 2007, Strokes bucket banger Fab Moretti formed a group called Little Joy, which featured none other than Binki Shapiro. The band's rather beautiful eponymous album followed a year later and upon hearing it I particularly fell in love with the beguiling 'Unattainable', in which Binki's  enchanting vocal talent was brought to the foreground, along with her ability to scatter every song on the album with a little bit of magic.  Fast forward to 2013, and she's teamed up with former Mouldy Peach and prolific solo artist Adam Green to collaborate on the simply titled project and album, Adam Green and Binki Shapiro.
On first inspection, it's easy to fall into the trap of assuming that Green and Shapiro exude a sonic nature akin to that of the '60s girl pop vibe of She & Him, particularly on the opener and first single 'Here I Am', in which they do seem at first to be treading a well furrowed path; it soon becomes patent, however, there's far more to this duo than what initially meets the ear. As well as being incurable romantics, Adam and Binki both bring a wide range of influences to the table by incorporating an impressive array of instrumental craft and musical arrangements throughout the entirety of the record.
Given the diversity and range of styles at work here it would have been easy for them to lose focus, but their debut outing retains a strong central theme. Adam Green and Binki Shapiro is a record with plenty of heart, veering between the bitter lament of 'Casanova' to the playfulness of 'Pleasantries'; the latter seemingly coming straight out of the Adam Green songbook. The conversational tone on many of the songs bears likeness to his distinct hallmark.
Running through this collection of short bitter-sweet refrains is a clear love and appreciation of '60s folk-pop. The most recognisable influences on the record are ones that draw collations to Lee Hazelwood and Nancy Sinatra; never more so than in the album finale, 'Nighttime Stopped Bleeding'. In the same vein, Shapiro takes the lead: her velvet vocals flow effortlessly like a meandering stream, perfectly accompanied and counterpointed by Green's deep husky drawl. This is a discourse on love and loss; the whimsical arrangements are tempered by an undertone of sorrow and regret. Alas, with a mere 27 minutes forming its contents, the album flies by and leaves you with the feeling that you've caught snippets of a lost romance, without necessarily hearing the whole story.
Adam Green and Binki Shapiro is available from amazon
and iTunes on January 29, 2013.